How the Light Gets In, an interactive installation at the Spencer Museum of Art and Lawrence Public Library, explores themes of knowledge, wisdom, and experience.

Created by artist Sarah Newman and developed in collaboration with the KU Center for Digital Inclusion and metaLAB at Harvard, this project builds on the work of Professor Hyunjin Seo and her team with formerly incarcerated women reentering society. Newman and the KU team developed the project through a combination of conversations and creative workshops with these women.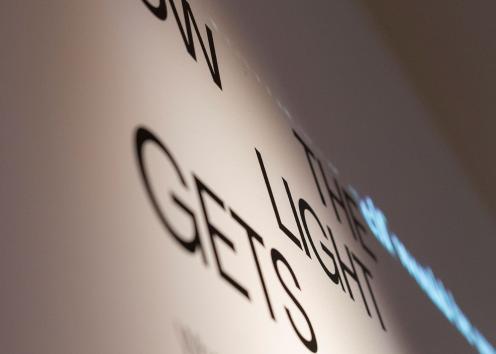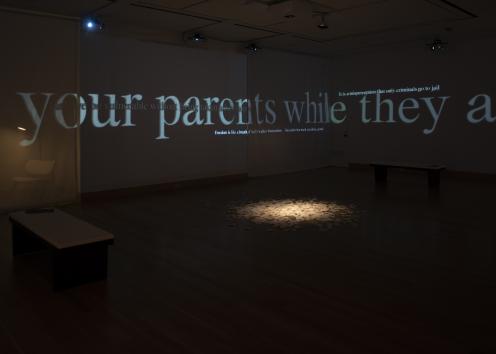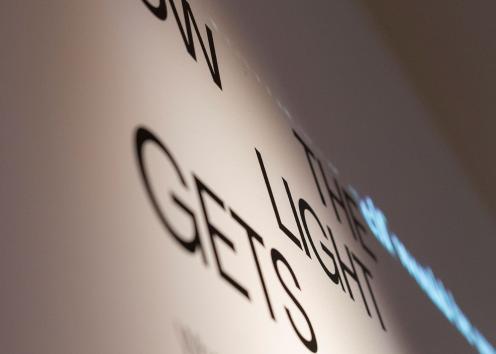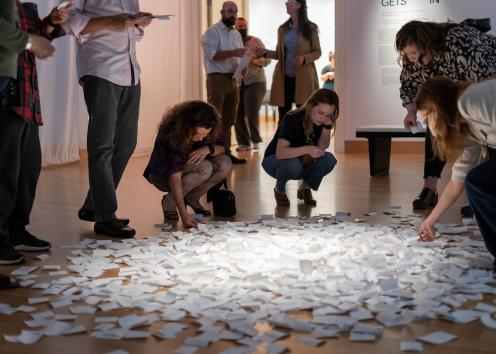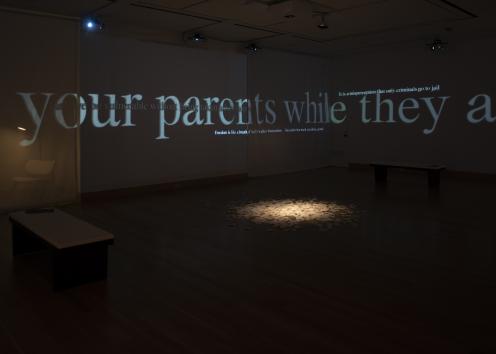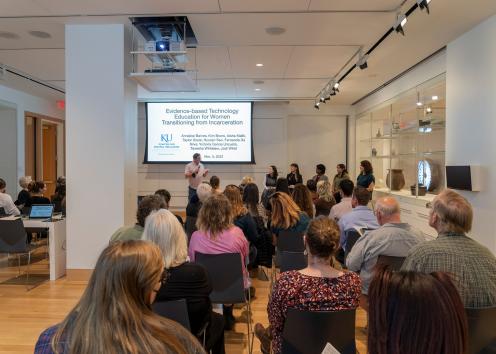 NEA Grant on Tech and Social Justice 
In 2021, Director Hyunjin Seo and her collaborators were awarded a grant from the National Endowment for the Arts (NEA) for their interactive visual art project aimed at facilitating conversations about structural barriers and societal biases facing women recently released from jail or prison as well as their wisdom and resilience in navigating challenges in returning to society. This project lies at the intersection of technology, art and social justice. Seo serves as the project director and principal investigator and partner with Sarah Newman at Harvard University and Joey Orr at the Spencer Museum of Art, as well as students at University of Kansas. Read more about the project from KU Today and NEA grant announcement. 
Center Team Receives NSF Grant Award 
A multidisciplinary team led by our director and KU Associate Professor Hyunjin Seo received a $1.4 million grant award from the National Science Foundation in support of work offering technology education to women who have been recently released from jail or prision and are now seeking to reenter the job force ("returning women citizens"). Through this project, the team will conduct empirical research and offer online/offline technology sessions to enhance the women's employment opportunities and help address systemic issues involving women's reentry. The team members are: Hannah Britton, associate professor of political science and women, gender & sexuality studies at KU; Megha Ramaswamy, associate professor of preventive medicine & public health at KU; Marilyn Ault, director of Advanced Learning Technologies in Education Consortia at KU; Baek-young Choi, associate professor of computer science at UMKC; Sejun Song, associate professor of computer science at UMKC; Darcey Altschwager, Ph.D. student in the School of Journalism and Mass Communications at KU; Joi Wickliffe, project director at KU Medical Center; and Ellie Booton, undergraduate student in the Schoo of Journalism and Mass Communications at KU. Read more about the project from National Science Foundation, the Topeka Capital-Journal, the Lawrence Journal-World and KU News.
Our Recent Graduates from the Center for Digital Inclusion 
A group of seniors in Kansas City completed a one-year digital education program offered by the Center for Digital Inclusion and received a certificate of completion on May 7, 2018. They attended a weekly workshop on security and privacy online, online information verification and Microsoft Office programs, as well as basics of using a computer. 
Our center has engaged members of underserved populations in the greater Kansas City area with the objective of enhancing their skills in discerning misinformation and using digital technologies to enable them to more fully and effectively participate in modern life.
Our Team's Research Featured on KU Today 
Our research team's study on minority older adults' technology adoption and use was featured on KU Today. Based on focus groups with minority older adults, this study examines how this group adopts and uses technology and how technology adoption/use is associated with health information seeking behavior. Research findings show that while these older adults perceive technology to be highly useful, they do not view it as easy to use thus preventing them from further adopting or using relevant technologies. Consequently, there is skepticism with respect to using technology to search for health information. Community-based organizations and faith-based organizations play significant roles in their getting information about health and wellness. Our study advances research on minority groups' technology use and health information seeking by looking at the intersectionality of race/ethnicity, age and income. This study also offers several policy and practical implications such as how to incorporate health issues in computer classes to motivate this group to learn relevant technologies. 
Conference on Misinformation in the Social Media Age 
On November 9, 2017, scholars and practitioners came together to examine consequences and responses to misinformation and fake news in democratic societies and how these issues affect underserved and digitally disadvantaged populations. The following topics were discussed and the full program can be found on the KU Misinformation in the Social Media Age page. 
What are the consequences of misinformation for democracy and civic engagement?
How can we detect and address misinformation? What scholarly and industry efforts have been made in this area?
How can interdisciplinary collaboration most effectively push the figt against misinformation forward?
What countermeasures are most feasible and effective? How can scholars, industry, citizens, and nonprofit organizations work together on this?
The conference was featured on KU Today.