Aisha Malik
---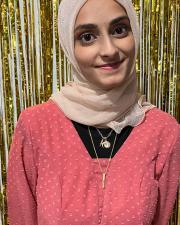 Undergraduate Research Assistant (Emerging Scholar)
Contact Info
Stauffer-Flint 114
1435 Jayhawk Blvd.
Lawrence, KS 66045
---
Biography
—
Aisha Malik is an undergraduate student in the emerging scholars program pursuing a bachelor's degree in Speech Pathology Language-Hearing. Aisha is graduating in Spring 2024 and is planning on pursuing her masters in Speech-Language Pathology. 
Aisha is an undergraduate researcher through the emerging scholars program for KU CDI. She has been researching for KU CDI since the fall of 2022. Aisha creates supplemental material to assist participants in the RETURN program, creates social media posts for KU CDI's socials and conducts interviews for interested participants in the RETURN Program among other tasks.
Aisha is involved in the honors program as an honors student, is a Co-Director of Programs for Student Alumni Leadership Board, is SLP Grad Chair and Audiology Chair for KU NSSLHA, is an academic coach for KU's Transitioning to Post-Secondary Education, is a peer mentor for The Emerging Scholars Program at KU and researches in The Baby Lab at KUMC.