Jodi Whitt
---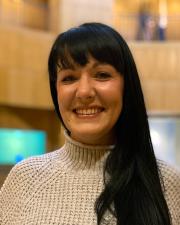 Contact Info
Stauffer-Flint Hall Room 115
Lawrence
1435 Jayhawk Blvd.
Lawrence, KS 66045
---
Biography
—
Jodi Whitt is a University of Kansas Center for Digital Inclusion Digital Navigator. Previously, Jodi was a program participant in the KU CDI Technology Education Program. Her main goal is to help other women succeed after incarceration. Jodi is also the host of the Center for Digital Inclusion's "Open Doors Podcast."
Jodi is an active volunteer for the Intersection to Care Project and Birthright of Topeka. 
In her free time, Jodi enjoys cooking for her family, playing card games with her children, and spending time outside. 
 
Awards & Honors
—
Jodi presented at the UEDA Summit in October 2022, where the University of Kansas Center for Digital Inclusion team won the Diversity, Equity, and Inclusion award.