Taylor Doyle
---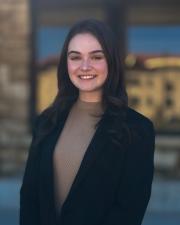 Undergraduate Research Assistant
she/her
Contact Info
Stauffer-Flint 114
Lawrence
1435 Jayhawk Blvd.
Lawrence, KS 66045
---
Biography
—
Taylor Doyle is an undergraduate student in the William Allen White School of Journalism and Mass Communications and the College of Liberal Arts and Sciences at the University of Kansas. She is pursuing bachelor's degrees in political science and multimedia journalism from the University of Kansas. Taylor plans on graduating a year early and attending law school in Fall 2025. 
Taylor is an Honors student at the University of Kansas and serves as an Honors Student Ambassador. She is also involved with Phi Alpha Delta Law Fraternity, the University of Kansas Common Cause Student Design Team, Her Campus, the Dole Institute of Politics, and serves on the Journalism and Mass Communications Faculty Search Committee. 
Taylor has been a team member of the University of Kansas Center for Digital Inclusion team for a year. Last year, she filmed and edited visual content for CDI. This fall, Taylor accepted the National Science Foundation Research Experiences for Undergraduates and creates content for the Center.